Activist and Scientist Arrested in Holland for Exercising His Right to Free Speech
In a chilling development for human and democratic rights worldwide, prominent Dutch activist and bio-pharmacist with a PhD in nanotechnology, Willem Engel, has been arrested twice in Holland for exercising his rights to free speech, freedom of assembly, freedom of association and freedom of movement.
Since the outset of the COVID-19 operation, Willem Engel has fought against mainstream misinformation regarding SARS-COV-2, misuse of PCR tests, and "vaccine" propaganda. Willem helped to launch Doctors for Covid Ethics in March 2021 by hand-delivering our first letter to the European Medicines Agency (EMA), and by spreading news of our EMA letters, and our subsequent actions, on his platforms across Europe.
First Arrest
On March 16th 2022, Willem was summarily apprehended on the street for reasons that were unknown to him at the time. Children's Health Defence Europe reported in an article titled Things Get Serious:
Willem Engel was suddenly arrested like a felon on the open street and handcuffed. What exactly he was accused of did not seem to be clear to the surprised Engel. 
The article observed that:
"In addition to his Viruswaarheid site, which publishes information that critically examines and questions the narrative of the pandemic… Willem Engel, together with his partner and lawyer Jeroen Poels, had recently documented the Dutch government's close ties with the World Economic Forum in an extensive broadcast, also discussing aspects such as eugenics and treason. "
In a letter to the Ambassador of the Netherlands in Berlin, Dr Ulwe Alschner PhD wrote:
"According to unconfirmed reports, Mr Engel is accused of inciting crimes against public institutions. In view of the extraordinarily peaceful and affectionate way of expressing himself over many years, these accusations seem more than doubtful. The suspicion arises that Willem Engel may have become inconvenient to authorities because of his persistent criticism of what were, in effect, unscientific and disproportionate measures to "contain" the "pandemic," and therefore the imprisonment may have been an intimidation and a "warning shot."

The Kingdom of the Netherlands is home to the International Court of Justice in the Hague. Deprivation of liberty without cause would be extraordinarily embarrassing for this very reason. Also, constructing a reason for arrest would be wholly inappropriate for a member state of the European Union, which is a signatory to the UN Charter on Human Rights. 

All that Willem Engel has done in the past two years has been to uphold the right to life, liberty and security of all people under Article 3 of the UN Charter on Human Rights, Article 30 of which prohibits all members from abusing human rights to deny other rights to their citizens." 
Read the Children's Health Defense article, with the letter to the Dutch Ambassador, and video footage of Willem's first arrest, here.
Upon his arrest on March 16th Willem was accused of posting "inflammatory messages on the subject of Corona" on social media, and was imprisoned for 14 days. He was released on March 30th under the condition that he refrain from expressing himself on social media, which would result in a further 90 days imprisonment. 
Willem must attend court at the Grand Criminal Chamber for a trial before three judges, on June 13th 2022, to defend himself against a charge involving "incitement via Facebook".
Willem left prison with bags full of letters, postcards and emails of support from countless people around the world.
Watch a translated speech by lawyer Jeroen Pols, during a demonstration for Willem's release on Sunday 20 March 2022 in Amsterdam.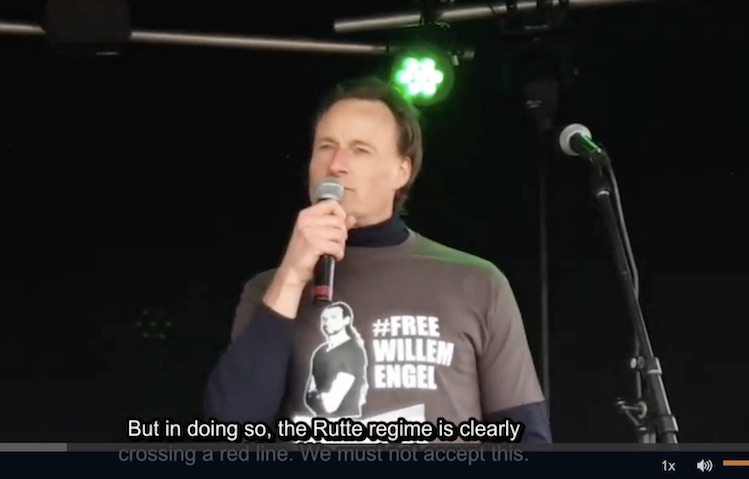 Joeren Pols is a lawyer for Viruswaarheid (Virus Truth), and co-combatant with Willem in 20 lawsuits against the Corona measures in the Netherlands. He said:
"The Universal Declaration of Human Rights determines that we are born as free human beings with equal rights. No state, no politician, no administrator has the right to meddle with these. This is what we call civilization. It is only a thin veneer that we have to be very careful of. Only this can protect us from violence and chaos. For us as citizens, our most potent weapon is freedom of speech. This right is the core of a democratic constitutional state."
Second Arrest
Next, on April 3rd 2022, Willem was pulled over in his car on the way to a protest at which he intended to speak, and arrested by two police officers. The officers, who were heavily masked, refused to identify themselves, contrary to Dutch law, and handcuffed Willem, also reportedly unlawfully.
At his arrest Willem was accused of speaking out on social media. In reality he had given an interview to a news channel.
John Goss of the website All the Goss wrote:
"Throughout history great thinkers have been persecuted for their knowledge. Socrates was forced to take hemlock, Galileo imprisoned for heresy, Dostoyevsky and Pushkin imprisoned for their writing talents and philosophies, Oscar WIlde imprisoned for being a homosexual.. Julian Assange has been incarcerated one way or another for more than a decade... a truthful reporter – a reporter who revealed US war crimes… the list is endless. Never before, though, have so many intellectuals been targeted simultaneously over their objection to false dogma. 

This is the world we live in. Unless we, the people, do something about it the growing imprisonment of the innocent can only get more frequent until there is nobody left speaking out."
Read John Goss's full article here.
Following his second arrest Willem was released from prison after two days, on April 5th. The judge overturned the original ban on his social media activity, finding the original ruling too harsh in the "fundamental" light of freedom of speech. Willem is, therefore, once again temporarily free to post on social media ahead of his hearing on June 13th.
Willem Engel is a gentle, principled and tenacious defender of his fellow human beings and their rights, sovereignty, dignity and freedom.
Watch Willem in discussion with Prof. Sucharit Bhakdi MD here, from July 2021.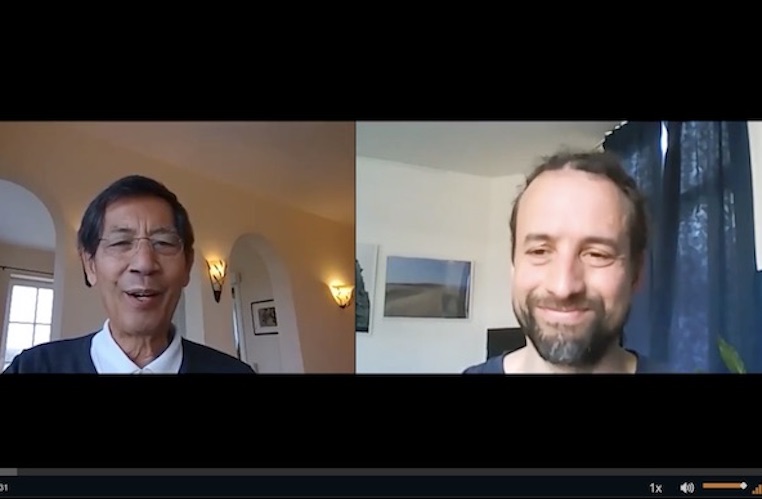 And in discussion with Dr Mike Yeadon here, from April 5, 2021.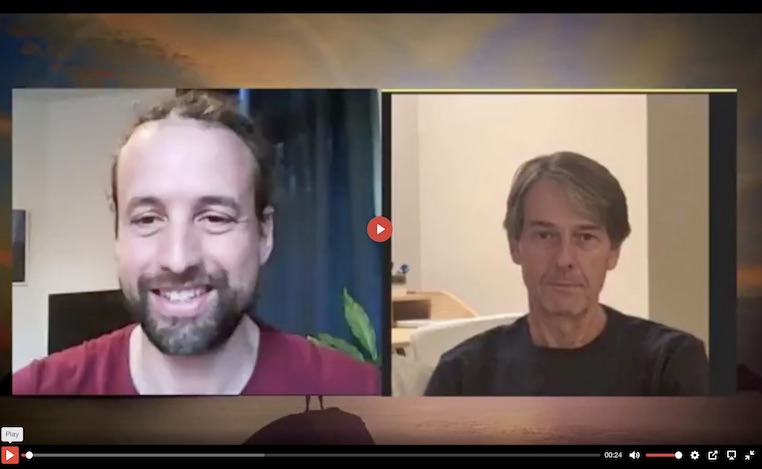 And in discussion with Taylor Hudak at the Last American Vagabond here.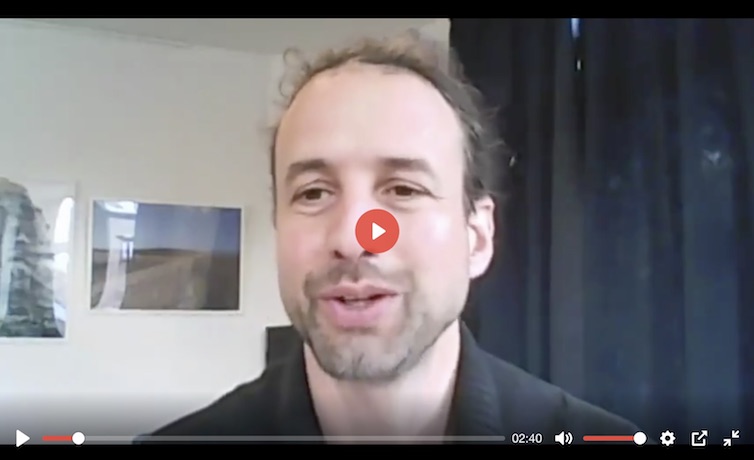 In August 2021 Willem accompanied Holocaust survivors as they delivered a letter to the EMA, with a reading of the letter by one survivor. The women hugged Willem in gratitude and affection after the event.
Willem's case highlights the reality that the true target of coronavirus measures is not a pathogen. Nor is the true prize public health. If it were, effective treatments would not have been suppressed in order to trick and coerce populations into taking ineffective and deadly nanoparticle gene-based agents, wrongly disguised as "vaccines". The true target is our rights and freedoms, and our humanity itself. The true prize for those who seek to violate those rights and freedoms is totalitarian control.
Willem's humanity and his fight for our rights stands in stark contrast to the pronouncements of World Economic Forum luminary and senior advisor to Klaus Schwab, Yuval Noah Harari, who has recently declared:
May we all join Willem in proving Harari wrong.