Session II of our fifth symposium, In the Midst of Darkness Light Prevails, focussed on the legal landscape around the world in bringing the rule of law to bear on 'public health emergency' governance.
Introduction
Ray L. Flores II Esq, Senior Attorney at Children's Health Defense, introduced the session by assuring the audience that, "This is a very positive time." He expressed his confidence that, although there is still a battle ahead, "we will ultimately prevail."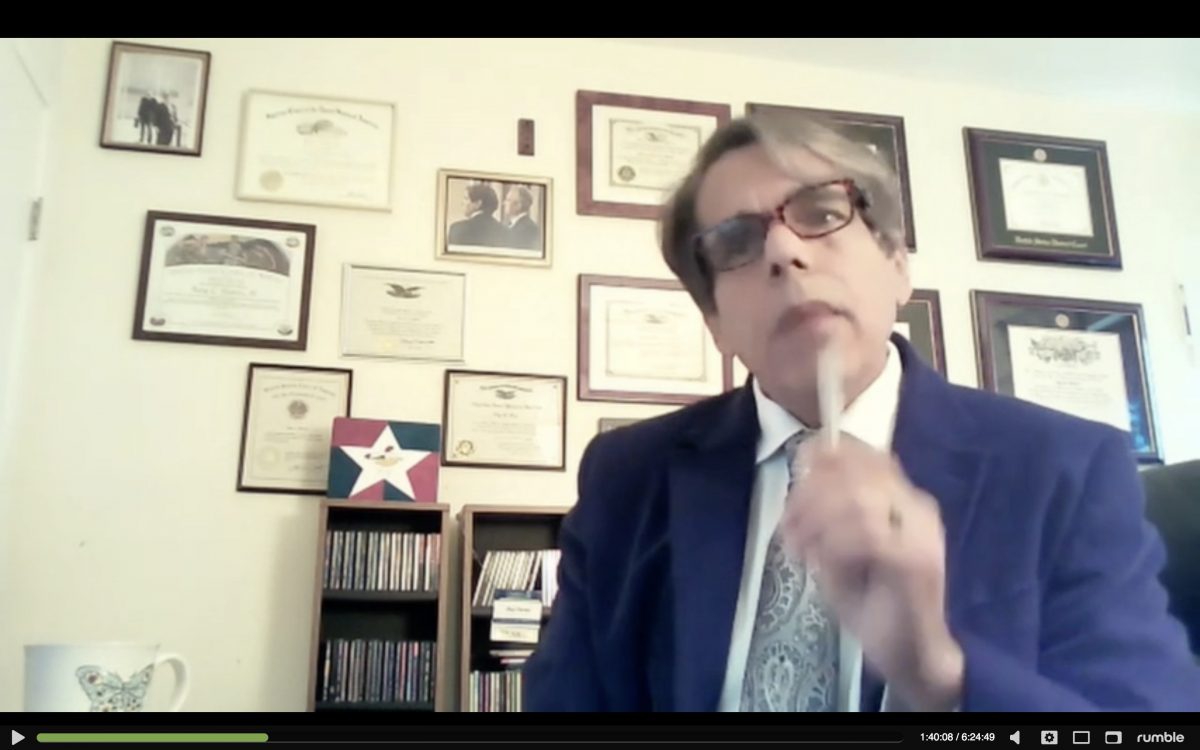 Attorney Flores noted that a key obstacle to winning cases in courts of law has been the judiciary's reluctance to engage with science. However, he stressed that the courts of law and courts of public opinion operate together, and thanks to doctors and scientists such as those presenting at this symposium today, the public is armed with accurate information, which will influence the courts.
Philipp Kruse: Criminal Complaint Against Swissmedic
22 minutes 30s
Attorney Philipp Kruse LL.M outlined a 300-page criminal complaint that he is currently spearheading against Swissmedic, which is the supreme supervisory and licensing authority in Switzerland. The complaint is supported by extensive evidence and documentation, compiled with the help of several Doctors for Covid Ethics members. The documentation is available to the public, including for use in other legal challenges and jurisdictions. It can be read and downloaded at https://coronacomplaint.ch/.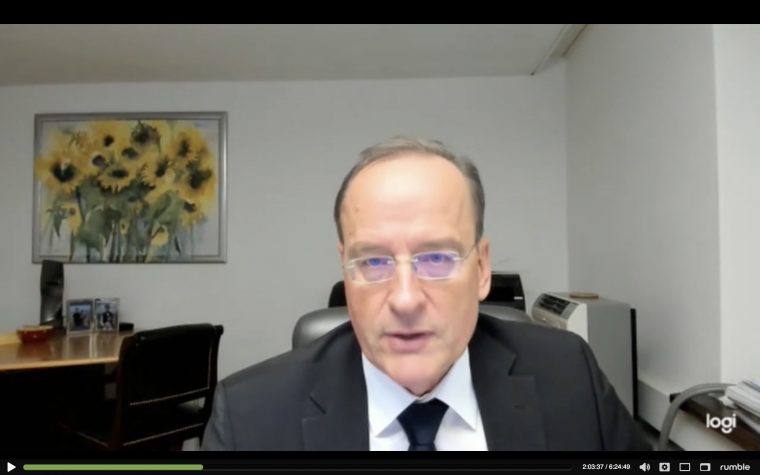 The complaint was prompted by the many vaccine victims contacting Philipp Kruse and his colleagues for legal assistance. It lays out evidence that Swissmedic engaged in severe and repeated violations of basic legal duties and mandatory due diligence obligations with respect to COVID-19, including:
Granting approval for COVID vaccines without the evidence required as defined by law
Failing to sufficiently monitor adverse effects
Spreading disinformation about the risks of COVID vaccines
These actions have amounted to what Phillp Kruse described as the biggest threat to public health ever to occur in Switzerland. The criminal complaint seeks the opening of a criminal investigation by relevant authorities into Swissmedic and the acting individuals in charge. Penalties for the felonies and misdemeanours outlined in the complaint include custodial sentences of up to ten years.
Ray L. FLores: Fighting for Doctors' Free Speech
5 minutes 45s
Ray L. Flores described the status of legal actions in the United States, including a lawsuit and injunction that has been filed by Children's Health Defense, to be heard on January 23 2023, challenging a Californian Law (AB2098) that curtails doctors' freedom of speech.
"The freedom of doctors speech to their patient is the most crucial of all rights that we are facing right now," Attorney Flores said. "If someone is injured by a vaccine, and the physician is not allowed to diagnose them in a candid manner, there is no way that they are going to be able to be treated."
Ray L. Flores and Children's Health Defense will be fighting the Californian legislation on two grounds. One relates to the First Amendment and doctors' constitutional rights as US citizens. The other is that the official COVID narrative has flip-flopped so many times that doctors' speech cannot be expected to align with a government position that is constantly changing. Doctors "would never know what they can or can't say."
Panel Discussion
16 minutes
Ray L. Flores was then joined by Philipp Kruse, Human Rights Lawyer Dr Renate Holzeisen and retired Paediatrician Dr Ros Jones MD to discuss their perspectives on the legal landscapes in their respective jurisdictions.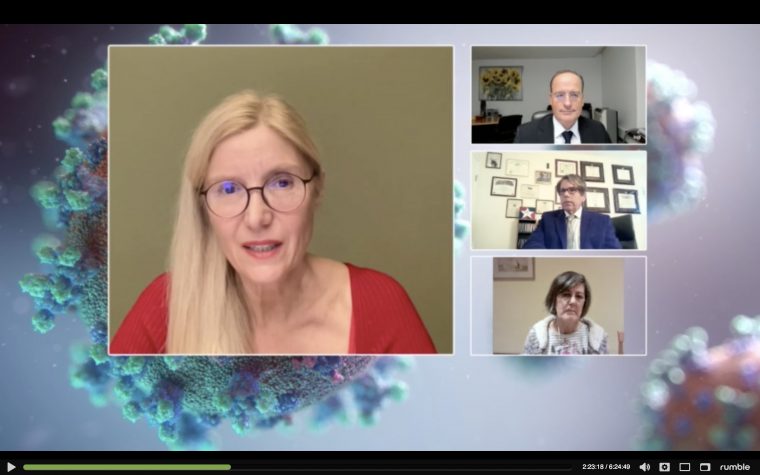 Dr Renate Holzeisen described a ruling in Italy that upheld the constitutionality of Italy's vaccine mandates, based on 'science'. She described the decision as "a huge scandal", given that COVID vaccines do not prevent contagiousness, which negates the scientific rationale for vaccine mandates in the first place. However, admissions by the EMA and other authorities that the evidence does not support vaccination as a means of contagion control will be valuable to future legal actions, she said.
Dr Ros Jones MD described procedural and cultural barriers to legally challenging vaccination of children in the UK. These included the Medicines and Healthcare products Regulatory Agency (MHRA) and the Joint Committee on Vaccination and Immunisation (JCVI) passing responsibility back and forth between them, court applications being deemed either too premature prior to vaccine approval, or too late afterwards, and a legal culture whereby the quality of scientific evidence behind official decisions was not evaluated by the court, as long as "experts" had been consulted.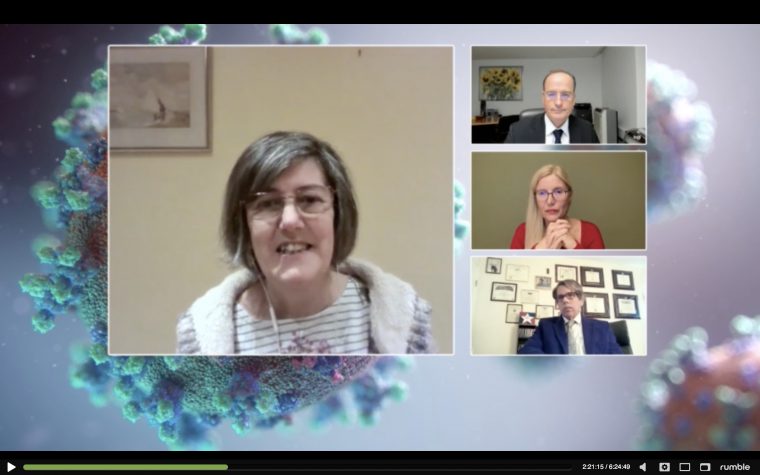 Ray L. Flores noted that in the US cases were often similarly "discharged through a trapdoor", for instance via dismissal or based on standing, enabling judges to avoid engaging with scientific evidence and hard questions. Philipp Kruse described a parallel experience in Switzerland, whereby courts repeatedly declined to hear scientific evidence from expert witnesses.
In terms of constructive ways forward, Dr Jones reflected on her experience that, despite the intransigence of government authorities and courts, "I think parents are listening… For the five to 11 [age group], just seven percent [in the UK] have had two doses. So I think the parents are voting with their feet." She added that in the US, the COVID vaccine has only had around a 2.5 percent uptake in newborns to four year-olds, demonstrating a similar pattern.
Renate Holzeisen concluded by stressing that as public opinion changes in this way, judges and prosecutors are more willing to do their job. Ray Flores agreed, adding "the courts follow culture."
Watch all of Session II here
47 minutes
Session II Presenters
Click here for Session II presenters' links and resources
Ray L. Flores II, Esq. is a health freedom rights attorney. His interest in natural living started in the 1980's when he began working in the burgeoning natural foods industry. Seeing the FDA ban L-tryptophan in 1989, passing of DSHEA in 1994, the removal of most fresh juices in 1996, made it obvious that our health was under attack by regulatory agencies. He became an attorney 17 years ago to devote his attention to that battle. Now that the world is fully engulfed in this crisis, he believes his choice was a good one. He is grateful to work tirelessly to preserve our natural rights.
Dr. Renate Holzeisen is a European Human Rights lawyer based in South Tyrol who is
fighting the Corona measures legally. She contends that any newly developed vaccine cannot be made mandatory using the rationale that was used for their approval. She is also a Barrister practicing before the Supreme Courts and is specialized in European and International Law. She is a formidable force in cases at the European and national level by unifying, sharing and coordinating initiatives. She is actively engaged in issues regarding Fundamental Rights and Freedoms.
Dr. Ros Jones is a retired Consultant Paediatrician with a special interest in neonatal intensive care and paediatric HIV. She has served on the Advisory Committee of the National Perinatal Epidemiology Unit and on the Education & Training committee of the The Royal College of Paediatrics and Child Health (RCPCH). An active member for many years in the British Perinatal Trials Group, she was also involved in reviewing National Institute for Health and Care Excellence (NICE) guidelines alongside some editorial work. Since retiring from the NHS, she has undertaken several tours teaching on SAFE Obstetrics courses in countries in Africa. Ros is active member and spokesperson for HART Group: https://www.hartgroup.org/
Philipp Kruse is a Swiss Attorney. After a career in commercial and constitutional law, he dedicated his life to challenge the path Switzerland is moving along with many other nations. He has run several cases in relation to regulations impacting children, constitutional controversies and is leading several initiatives supporting activists.