For the second time since creating a Twitter account in March 2021, having previously been locked out of Twitter for posting one of our letters to the European Medicines Agency, Doctors for Covid Ethics has been censored again, amid worsening censorship of medical and scientific experts by social media companies.
On June 2nd 2021 Doctors for Covid Ethics posted a Tweet referencing testimony given by two former WHO employees, to lawyer Dr Reiner Fuellmich and his Extra Parliamentary Investigative Corona Committee.
The Tweet quoted text from an article which read:
"Two former WHO employees testified to Fuellmich that pharmaceutical companies urged the WHO in January 2020 to declare an international health crisis, so that their experimental gene therapy, the 'corona vaccine', could be approved for emergency use."
Within a few days Doctors for Covid Ethics was locked out of our Twitter account. We were instructed to delete our tweet in order to resume tweeting, following a 7 day hiatus.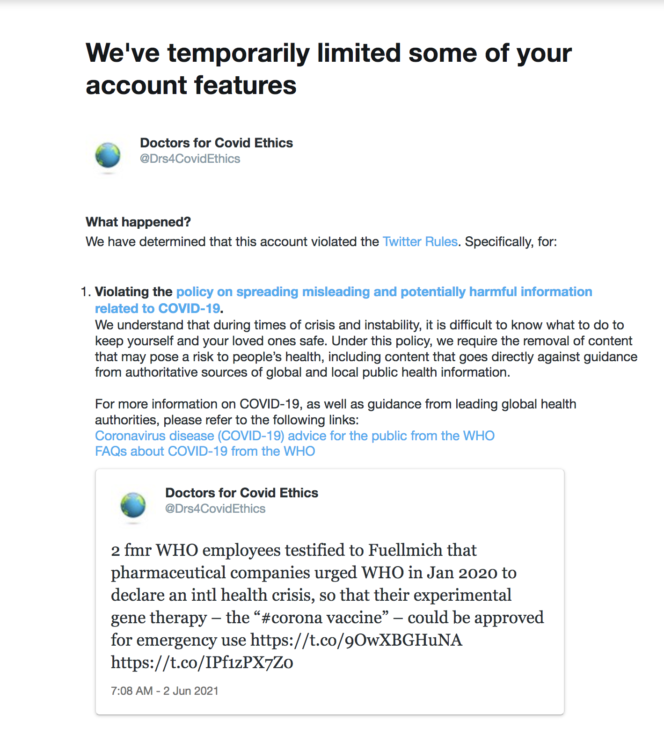 During our lockout period, @cov19treatments, an account of impeccable scientific integrity, dedicated to sharing the best available evidence and science regarding medical interventions for Covid-19, was suspended from Twitter.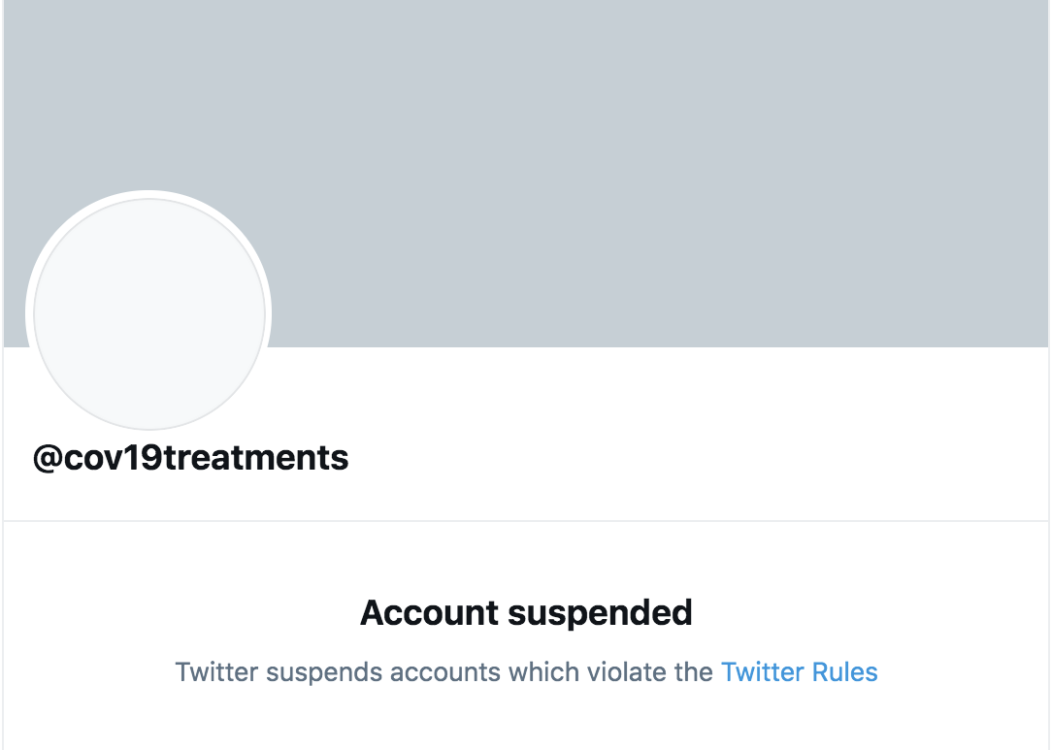 Doctors for Covid Ethics responded, "Social media dictating politico-medical dogma, at the expense of real doctors talking real medicine, is the real danger here."

With every censored medical and scientific tweet, social media personnel risk entanglement in the very crimes that Reiner Fuellmich and his team of 200 to 300 lawyers are investigating.
An article at the Daily Expose providing context to the former WHO employees' testimony reports that the pharmaceutical companies reportedly influencing the WHO, "managed to declare [an] emergency, thanks to Drosten's PCR test which enabled them to create the illusion of thousands of [Covid] cases that they could then use to declare the public health emergency."
The report quotes Fuellmich as saying:
"The final result they wanted to arrive at was to get everyone vaccinated. But it isn't even a vaccine. It's an experimental gene therapy…
"All the people who have been vaccinated should have been informed in advance that this is not a vaccine but an experimental gene therapy – this has never been done before – and that there is no supporting medical research. This is an experiment. The people who are participating in it have not been informed. They are guinea pigs.
"In a few weeks, very big lawsuits are going to start…on three different continents. Then we will see if the legal system still exists or if it has already been completely taken over by the other side, which I don't think is the case.
"Everyone who is a part of this – including the doctors who do the pricks, the people who run the place, the people who profit from this, and the governments who encourage people to get vaccinated – is responsible. These are really crimes against humanity. I think we need an international coroner's court to clean up this mess."