The methodology of a U.K. report concluding that COVID-19 vaccines are unsafe for use in humans was applied to adverse event data in the USA
In June 2021, a report assessing the safety of COVID-19 vaccines was submitted to the U.K. Medicines and Healthcare Products Regulatory Agency (MHRA) by an independent research organisation, the U.K. Evidence Based Medicine Consultancy (EBMC). The report analysed data from the MHRA's adverse events database, the Yellow Card Scheme, and interrogated those data by keyword, comparing categories of adverse events such as bleeding, blot clots, pain and neurological issues across COVID-19 vaccines.
In a summary letter to the MHRA, the report's lead author, Dr. Tess Lawrie, concluded that the new, non-approved covid-19 vaccine products, regardless of manufacturer, are not safe for human use.
"The MHRA now has more than enough evidence on the Yellow Card system to declare the COVID-19 vaccines unsafe for use in humans."
…Dr. Tess Lawrie
Read Dr. Lawrie's Letter: Urgent Preliminary Report of Yellow Card Data June 9, 2021
The issues raised by Dr. Lawrie et al. are of grave concern to clinicians and scientists worldwide. We therefore here adopted Lawrie's approach to analyse U.S. adverse events data to June 4, 2021, which were obtained from the Centre for Disease Control and Prevention's (CDC) Vaccine Adverse Events Reporting System (VAERS). At the time of this analysis, adverse events recorded in VAERS as relating to blood, immunity and neurological issues, all of which must be considered severe, numbered 121,243.
Given that a 2010 report to the US Department of Health and Human Services found that fewer than 1% of vaccine adverse events in the U.S. are reported to VAERS, the true total may be closer to 12 million than to 121,000.
See Table 1: Analysis of US Covid-19 Vaccines Adverse Data Events Using the EBMC's key Terms.
Table 1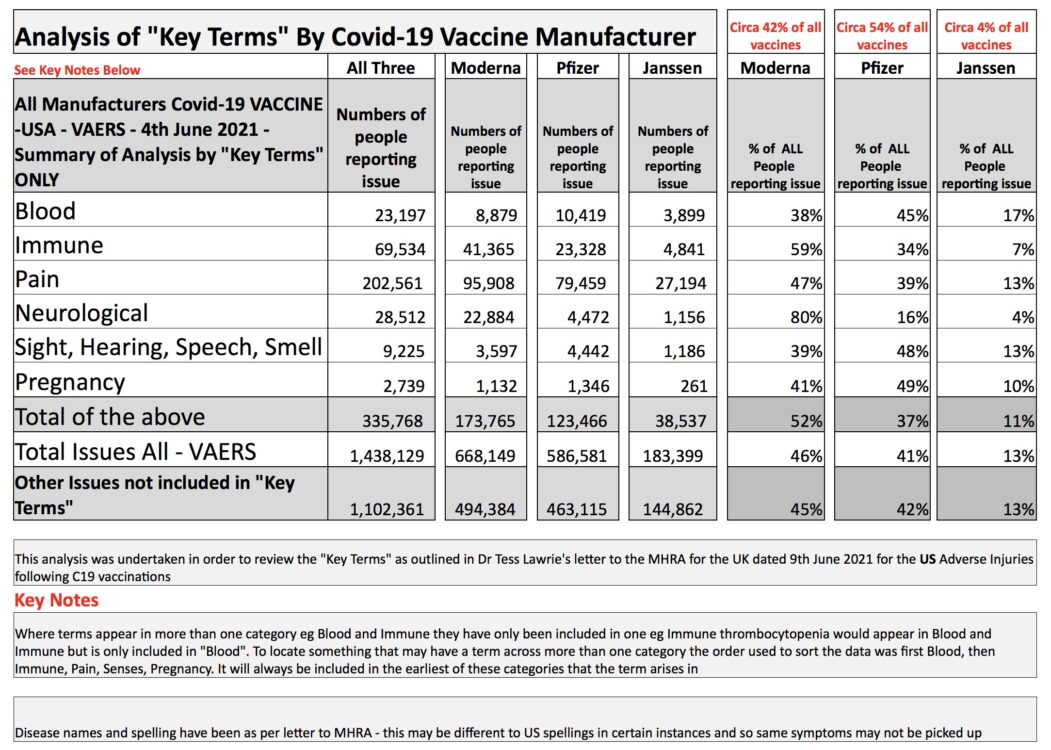 Based on this analysis, Doctors for Covid Ethics confirms the conclusions arrived at by Lawrie et al. and endorses their call for a an immediate and urgent halt to the COVID-19 vaccine program.